REGISTERED DENTAL ASSISTANT
Our program prepares students to take on significant responsibility as a member of a dental healthcare team. Dental assistants greatly increase the efficiency of the dentist in the delivery of quality, oral healthcare.
Ready to begin your career journey or have more questions? Connect with a Workforce Training Specialist today!
WHAT DOES A REGISTERED DENTAL ASSISTANT DO?
Registered dental assistants are highly visible members of the dental practice team, providing support to dentists and dental hygienists. Their responsibilities include scheduling appointments, obtaining patient information and vital signs, performing diagnostic testing, taking x-rays, and assisting throughout visits and procedures.
After successfully completing the Dental Assistant program, students will be proficient in working under the direction of a dentist, performing a variety of tasks such as coronal polishing, sealant application, fluoride application, and topical anesthetic application.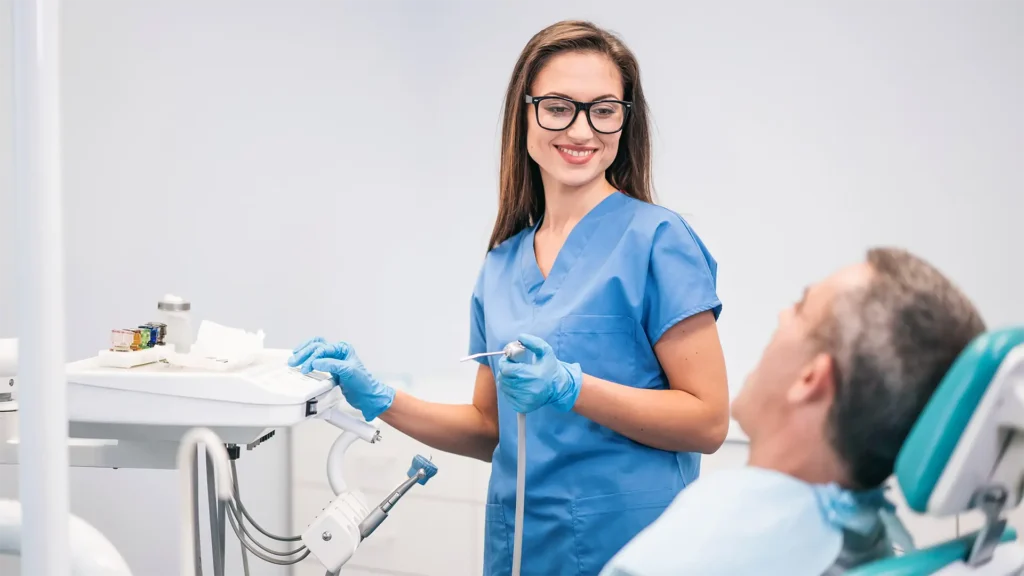 WHERE DOES A REGISTERED DENTAL ASSISTANT WORK?
Almost all dental assistants work in dentists' offices.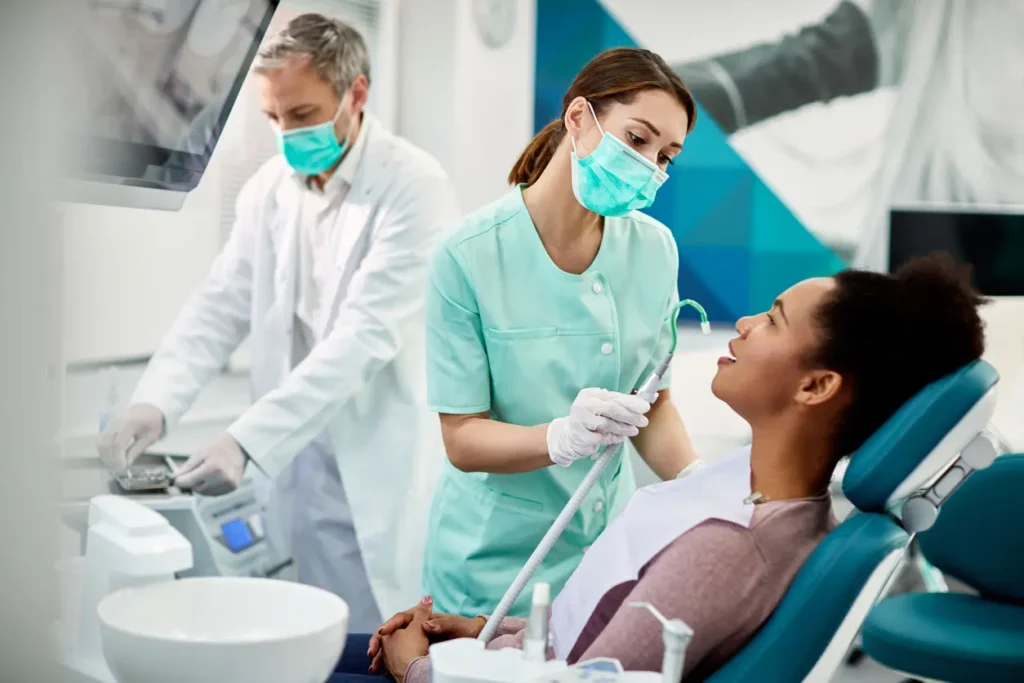 High School Diploma or GED
Web browser with internet connection
Course registration & payment
Training Materials Provided
Expert-led video based training
eBook: Modern Dental Assisting (Saunders 13th Edition, Copyright 2021)
Competency assessments
National Certification exam fee
REGISTERED DENTAL ASSISTANT
The demand for Registered Dental Assistants will continue to experience significant growth and, according to the U.S. Bureau of Labor Statistics, employment is expected to rise by around 11% by 2030.
Dental assistants can expect to earn a starting salary of between $19,000 and $45,000
Graduates of the dental assistant program will have acquired the skills necessary to work in a wide range of healthcare settings
Dental Assistant students will complete the program with a thorough understanding of dental anatomy and physiology, infection control, and radiation safety
Upon completion of our dental assistant program you'll learn a number of skills, including:
Recognize proper infection control procedures, hand washing, sterilization of equipment, disinfection of operatories, and use of personal protective equipment (PPE), per Standard and Universal precautions
Identify important head, neck, and oral anatomy related to patient care, including anomalies, and radiographic landmarks
Demonstrate essential dental assisting skills needed for patient preparation, measurement of vital signs, and four-handed dentistry as well as the dental assistant's role in medical emergencies
Classify clinical tools, techniques, and materials used in four-handed dentistry
Discuss tooth numbering systems, dental charting, and scheduling patients according to treatment plan
Explain informed consent and patient education including oral hygiene instruction and post-treatment care
Ensure HIPAA, OSHA, FDA, and EPA compliance and follow CDC recommendations as applicable to protected health information, infection control, radiation safety, workplace safety, and controls and documentation
Apply operator and patient radiation safety principles and address patient safety concerns
Demonstrate basic knowledge of radiology, including guidelines, regulations, and quality assurance in radiographic imaging and mounting
COURSES - 14 WEEKS
Professionalism in Allied Health
Infection Control in Dental Healthcare Settings
Dental Anatomy, Morphology and Physiology
Dental Assisting Essentials
Radiation Health and Safety in Dentistry
REGISTERED DENTAL ASSISTANT JOB POSSIBILITIES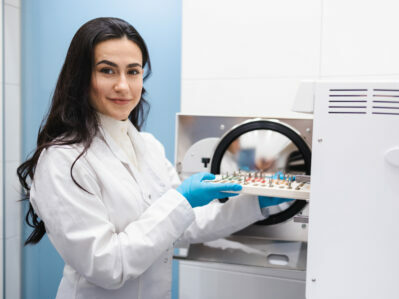 $26,000 – $49,000
ESTIMATED SALARY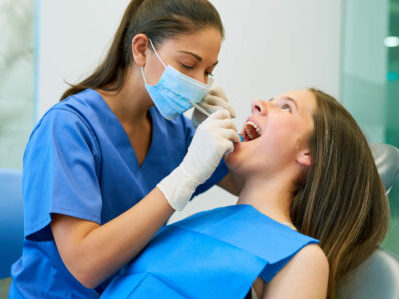 $26,000 – $49,000
ESTIMATED SALARY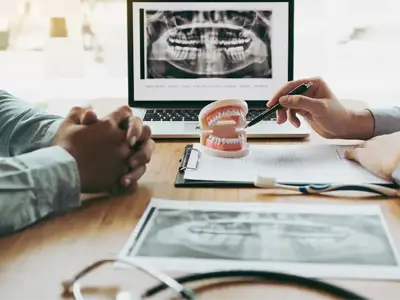 Dental Sales Representative
$26,000 – $49,000
ESTIMATED SALARY
CERTIFICATION INFORMATION
The Registered Dental Assistant (RDA) credential is awarded by the private certification organization, American Medical Technologists (AMT), and taken in addition to any state licensing or regulatory requirements.
Registered
Dental Assistant
The purpose of this exam is to demonstrate entry-level competence in basic dental assisting duties; it does not qualify candidates for any advanced procedures or expanded functions in the role of dental assisting.
PLEASE NOTE: This program does not qualify for Dental Assistant licensing in the state of Montana. Each state's dental board implements rules and regulations for delegating legally allowable duties to dental assistants. Passing the Registered Dental Assistant (RDA) exam only conveys authority to perform these duties in those states that recognize these exams or this certification as meeting state dental assisting requirements.
REGISTERED DENTAL ASSISTANT PAYMENT OPTIONS
In addition to the following payment options, we offer special corporate volume pricing. Visit the Corporate page for details.
DO YOU NEED HELP PAYING FOR YOUR CERTIFICATION PROGRAM?​
Many employers offer education assistance programs. Download the brochures to show your employer the benefit of upskilling their employees.
| | PROFESSIONAL WORKFORCE DEVELOPMENT | Community College |
| --- | --- | --- |
| | | |
| Exam Fees, Books & Materials | | |
| | | |
| | | |
| | | |
| | Personal Advisors: text, call and email access | Professors: scheduled office hours |
| | Exam-tailor + soft-skill training to build well-rounded careers | Exam-based + prerequisites and electives to meet credit |
| | 3D animations, immersive environments, interactive activities, game-based learning | |
MEET YOUR WORKFORCE TRAINING SPECIALIST!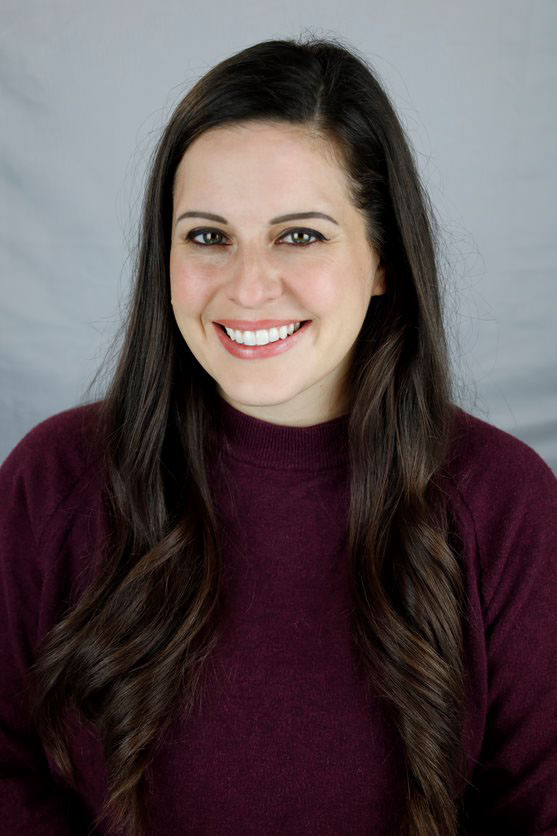 Tracey is your Workforce Training Specialist.  She is here to help you understand your program of interest, payment options and succeed!  Get in touch with Tracey to learn more about your program, Southern Adventist University and how to achieve your workforce development goals!
Ready to begin your career journey or have more questions? Connect with a Workforce Training Specialist today!
INTERESTED IN ANOTHER CERTIFICATE PROGRAM?

Founded in 1892, Southern Adventist University provides a quality, Christ-centered undergraduate and graduate education to approximately 2,700 students each year. Caring professors, hands-on training, and a wide selection of academic options prepare students for success, as demonstrated by our graduates' impressive job placement numbers and high median starting salaries. Located in the foothills of the Smoky Mountains, Southern's 1,300-acre campus features nearly 40 miles of hiking and biking trails, a top-notch fitness center, and much more.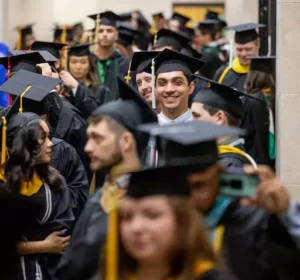 VIEW SOUTHERN'S DEGREE PROGRAMS
In addition to our certificate programs, Southern offers traditional college degrees with more than 100 academic options. View Southern's Degrees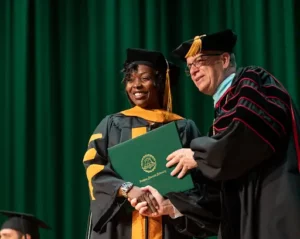 INVESTING IN A SOUTHERN DEGREE
Investing in a college degree is an important decision. Southern's traditional degrees offer financial aid options for students. Learn about Southern's Student Finance Options.